Caffeine shampoo is by far the best shampoo for to reduce hair loss. Using a caffeine shampoo is invaluable when your hair starts to thin. A few lucky people maintain a thick head of hair throughout life, but most of us – men and women alike – notice our hair becoming finer from middle-age onwards. The discovery that applying a weak solution of caffeine to the scalp reactivates hair follicles and reduces hair loss means there is now a simple way to help slow the hair ageing process. If a caffeine shampoo alone doesn't provide optimal results, a premium shampoo that includes caffeine plus extracts from Saw palmetto fruit may work better for you.
Caffeine shampoo for hair loss

Quick summary: These are the caffeine shampoos I recommend for thinning hair on Amazon.co.uk and Amazon.com
Caffeine, when applied directly to the scalp, penetrates directly into your hair follicles and stimulate hair growth in two main ways:
Caffeine hair products relax smooth muscle fibres surrounding the hair follicles; this reduces scalp tension and allows small blood vessels to dilate and deliver more oxygen, vitamins, minerals and protein needed for optimal hair growth.
Caffeine topical applications inhibit an enzyme, 5-α-reductase, which converts testosterone into dihydrotestosterone (DHT) within scalp hair follicles; DHT switches off scalp follicles and is associated with both male and female pattern hair loss.
Although testosterone is often referred to as the 'male' sex hormone, it is present in women, too – usually at levels that are around 20 times lower than those in men. For women, the relative influence of testosterone becomes greater as oestrogen levels fall as the menopause approaches. That's why many women notice their hair quality and quantity reducing from around the age of 40.
Caffeine boosts hair growth
Even at low concentrations, topical caffeine inhibits the effects of DHT to stimulate follicles and promote a more luxuriant hair growth. Just two minutes contact with your scalp is all that's needed for the caffeine in a shampoo to penetrate deeply into your hair follicles and get to work.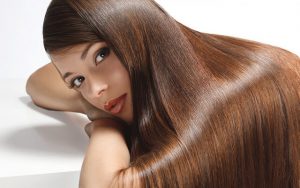 Once stabilised within the hair follicles, caffeine stays there for up to 48 hours, even if you wash your hair again – although for best results, use a caffeinated shampoo each time.
Researchers have found that a leave-on combination of caffeine plus key B vitamins stimulates hair growth enough to increase the cross-sectional area of scalp hair by as much as 10%, producing a noticeable thickening effect on thinning hair.
Don't reach for a cup of tea or coffee however – caffeine that is ingested is processed and diluted before it reaches the hair follicles and will not have the same effect! In fact, drinking too much caffeine can also have unwanted effects on your blood pressure.
I'm often asked 'Does caffeine shampoo work for hair loss.' The answer is an emphatic YES, and you can read the results of caffeine shampoo hair loss studies below.
I've also been asked if you can apply used tea leaves or coffee grounds to your scalp for a similar effect. The answer is no! Apart from being messy, caffeine is water-soluble and quickly seeps from the tea leaves or coffee grounds into the hot water while brewing so that little active caffeine remains in the dregs. The caffeine in shampoo, conditioner and hair lotion is also complexed with a carrier base to maximise absorption into your follicles. Don't let me stop you if you really want to take the 'au naturel' approach, but I really recommend using a caffeine shampoo and other products specifically designed to go on your hair!
Does caffeine shampoo work for hair loss?

Researchers have stated that applying treatments directly to the hair follicles is essential for an effective treatment of premature hair loss. The penetration of active caffeine into hair follicles is proven to occur from applying a caffeine shampoo to your hair for just 2 minutes.
An Italian study involving 33 men with male-pattern hair loss (known medically as androgenetic alopecia) compared the effects of caffeine shampoo against a placebo shampoo in 2012. They concluded that caffeine shampoo was significantly more effective than placebo, with more than twice as many people randomised to use caffeine shampoo stating they were satisfied with the results (84.8%) compared with 36.4% using placebo.
A study comparing the effects of combining caffeine shampoo with the medically prescribed treatment, minoxidil 5% solution, found that caffeine improved the effects of minoxidil in terms of hair density. From day 120 onwards, the combined treatment showed statistically significantly better results than using minoxidil solution alone.
A 2017 clinical trial involving 210 men with male-pattern hair loss directly compared the effects of a topical caffeine liquid against minoxidil solution in a 'head to head' trial. Half the men applied minoxidil 5% solution regularly, for six months, and half used an 0.2% caffeine-based topical liquid. The number of scalp hairs in the growth (anagen) phase were assessed before and after the trial.
Both groups of men showed similar improvements with an average increase in the anagen ratio of 10.59% with the caffeine solution, and 11.68% with the minoxidil solution (a non-statistically significant difference of 1.09%). The researchers concluded that a caffeine-based topical liquid was not inferior to minoxidil 5% solution in reducing hair loss in men with male pattern hair loss.
On a personal note, I have used Plantur caffeine shampoo and conditioner for over 2 years and would not want to switch – my hair growth is massively improved.
For women: Dr Wolff's Plantur 39 shampoo, condition and scalp tonic

I noticed a dramatic improvement in the thickness and strength of my hair soon after starting to use Dr Wolff's range of caffeinated shampoo, conditioner and scalp tonic.
The original range, Plantur 39 (sometimes affectionately referred to as Panther 39 shampoo!) is designed for women over 40.
A new range, Plantur 21, is now also available that is designed for younger hair that is noticeably thinning before that age, in which poor hair growth is associated with lack of energy, stress, or nutritional deficiencies.
The Plantur 39 Shampoo and conditioner come in two varieties.

The Plantur 39 Shampoo for coloured and stressed hair contains natural wheat extracts and provitamin B5 (panthenol) to smooth damaged hair and improve shine and lustre.

The Plantur 39 Shampoo for fine, brittle hair has lower amounts of hair softening ingredients so that fine hair retains its volume.

Both shampoos contain similar amounts of caffeine plus Camellia sinensis (green tea leaf) extracts and vitamin B3.

View current offers on Amazon.co.uk

Check current offers from Amazon.com

The Plantur 39 conditioners contain caffeine to maximise the time caffeine remains in contact with your scalp after washing.

The Plantur 39 Conditioner for coloured and stressed hair contains avocado oil to smooth hair and help it feel softer and more supple.

The Plantur 39 conditioner for fine, brittle hair contains hydrolyzed wheat protein to condition the surface hair scales without weighing down your hair with residues.

View current offers on Amazon.co.uk

Check current offers from Amazon.com

The Plantur 39 Phyto-Caffeine Tonic is ideal if you want to treat your hair without washing it every day, or if you prefer to use another shampoo rather than the ones in the range.

Apply the tonic directly to your scalp, preferably in the morning, and gently massage it in. Allow to dry briefly, then style your hair.

As well as supplying caffeine, the tonic contains soy isoflavones (genistein) plus vitamin B3 and zinc to boost hair growth.

View current offers on Amazon.co.uk

Check current offers from Amazon.com
Does Plantur 39 work?

When I'm asked if Plantur 39 is any good, I reply with a resounding Yes! I've noticed a significant improvement in my own hair since using Plantur 39 caffeine shampoo, conditioner and tonic and would not personally be without them.
At one time my hair was so thin I needed hair extensions, invisibly woven in at the sides, so my scalp did not show through. This produced an amazing, glamorous result (thanks to the inimitable Lucinda Ellery and her team in London, New York and Los Angeles). But now my hair is back to normal, thanks to Dr Wolff's discovery that topical caffeine blocks the action of DHT which has allowed my hair to grow back. Judging from the positive reviews, which you can read here, other people have found the Plantur ranges effective, too.
Although hair thinning is more common in women over the age of 39, some younger women notice hair thinning, too. This can be due to genetic effects, hormone conditions such as polycystic ovary syndrome (PCOS) or can occur temporarily after pregnancy, or following physical or emotional stress such as undergoing surgery, or experiencing a bereavement.
Dr Wolff therefore developed a range of caffeine shampoos for younger women, and the Plantur 21 shampoo reviews show that many women found it effective.
For men: Alpecin Caffeine Shampoo and Caffeine Liquid

I knew my other half wouldn't want to use a product designed for women, so I went in search of a more manly range for him.
The Alpecin caffeine range of hair products is also from  the Dr Wolff stable and makes a noticeable difference within a few weeks.
My husband has his hair cut monthly now, rather than every 6 to 8 weeks as before!
 Alpecin Caffeine Shampoo contains caffeine plus zinc and vitamins A and B3 to stimulate hair growth.  

View current offers on Amazon.co.uk

Check price from Amazon.com

If you also have problems with dandruff, the Alpecin Double Effect Caffeine Shampoo is for you. This helps to loosen scaly cells, reduces inflammation, discourages growth of the yeasts which trigger dandruff (through an immune effect) as well as providing the all important caffeine to stimulate hair growth.

See current offers on Amazon.co.uk

View price on Amazon.com 



For men who are turning grey, there is Alpecin Tuning Shampoo which promotes the formation of natural melanin pigment and tints early grey hairs to help make hair look darker and fuller. It also contains the all-important caffeine to stimulate hair growth.

Check current offers on Amazon.co.uk

See price Amazon.com  

And finally, there is an Alpecin Caffeine After Shampoo Liquid Hair Energizer, 200ml which you can apply in the morning, after washing, to your towel-dried scalp to massage in. Leave in place to dry, briefly, then style as usual.

This product boosts the caffeine action on hair follicles for 24 hours.

View current offers from Amazon.co.uk

Check price from Amazon.com.  
Caffeine and saw palmetto shampoo for thinning hair


Saw palmetto is a small palm tree whose berries are a traditional herbal medicine for male urinary symptoms due to an enlarged prostate gland (BPH). Like caffeine, saw palmetto extracts have been shown to block the action of the enzyme, 5-alpha-reductase, and reduce the conversion of the hormone, testosterone, to the more powerful dihydrotestosterone (DHT). In cell culture studies, saw palmetto extracts reduced this enzyme activity by as much as 45%.
If caffeine shampoos alone have not provided the response you were looking for, then a premium combination shampoo that includes caffeine and saw palmetto extracts may provide better results.
In a study testing the effectiveness of oral saw palmetto extracts for male pattern baldness, 60% of males who took the supplement were rated as improved after 4 to 5 months treatment. Although oral saw palmetto extracts are not recommended for women, several shampoos now combine caffeine plus saw palmetto extracts and, for topical use, can be used by both men and women with thinning hair.
If you haven't yet discovered caffeinated shampoos then you are in for a pleasant surprise. Caffeine shampoo really works for reducing thinning hair. As your hair grows relatively slowly, it might take a few weeks before you notice a significant difference or see less scalp showing through your hair. Do persevere – you have to wash yoru hair anyway, so stick with it and you will notice a benefit.
Is caffeine shampoo bad for you?
No side effects have been reported. The topical caffeine is absorbed into the hari follicles but so little reaches teh blood stream that it will not have systemic effects such as raising blood pressure or causing the jitters. The only people who should avoid it are those who develop a sensitivity reaction, which is extremely rare.
Other things you can do to improve hair growth include:
massaging your scalp gently with your fingers every day to stimulate blood circulation and the delivery of oxygen and nutrients to your hair follicles
holding a handful of hair and gently moving it in small circles to help loosen your scalp
eating a hair-friendly diet, as explained in my feature on nutritional approaches to thinning hair.
These steps will all help your caffeine shampoo get to work more quickly.
Image credit: ranjithsiji/pixabay; betsy_jons/flickr;