Mental health must be a priority aspect to achieve good overall health. It's important to detect any mental health issue early to provide patients with the right treatment to prevent complications, such as suicidal tendencies and schizophrenia. One of the best ways to do it is using mental health software.
What Is Mental Health Software?
Mental health software is a computer program built to support the daily operations of psychiatrists, psychologists, therapists, and other mental health professionals.
With the advancement of software development technology, mental health apps and software programs have evolved. These tools can help healthcare professionals and patients assess mental health status using data analytics, artificial intelligence (AI), and other innovative technologies.
Mental health tools aren't new. Many clinicians have been using them for patient diagnosis and monitoring. But, what more can care teams and patients expect from mental health software programs? 
This article will discuss the top mental health software trends this year and how they can help improve psychological assessment and intervention. 
1. Physical And Behavioral Health Integration 
Integrating physical and behavioral health promotes a holistic approach using technology-powered engagement tools. A reliable mental health software program streamlines behavioral health insight gathering at scale and supports healthcare teams to promote positive outcomes. 
Software that adopts an integrated mental health care approach provides the following benefits:
Improves Overall Health: A mental health software program using an integrated approach can provide tailor-fit assessment and activities through an accessible and engaging digital experience. 
Promotes Quick Prioritization: Having a reliable mental health software integrated with existing workflows promotes seamless patient monitoring, care planning, and patient referrals to appropriate sources for more effective interventions.
Improves Patient Management: Because mental health software can be integrated with existing systems, patient communication becomes more straightforward. Clinicians can meet patients anytime and anywhere using this tool.
2. Artificial Intelligence 
Embracing artificial intelligence (AI) is an excellent way to improve diagnosis accuracy. This technology intertwines data analytics and computer programs that resemble human-like cognitive processes.
Many healthcare professionals turn to AI-powered mental health software to help with workload management. For instance, therapists gain better quality control using this technology because it provides smart insights that are useful for efficiently implementing patient care plans and training new therapists.
Moreover, AI promotes automated patient monitoring to ensure high-quality patient care delivery. This technological trend in mental health software programs helps doctors detect mental illness early and create more accurate treatment plan options.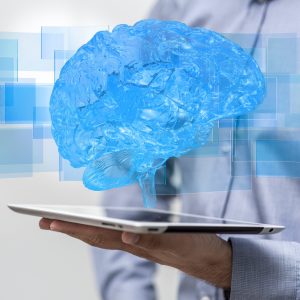 3. Flexible Electronic Health Records
Proper staff and patient communication
Monitor practice management tasks
Create patient-specific customizable templates 
Generate real-time reports 
Improve government program compliance 
Prescribe diagnostic exam requests, medications, and treatments electronically
Synchronize information with billing systems
4. Mobile Application
Mental health software programs don't only come in desktop versions. Many of them have mobile versions, providing many benefits for mental healthcare professionals and patients, including the following:
Quick Patient Response Time: Many psychiatrists and psychologists are busy with clinical rounds and consultations. Utilizing the mobile application version of mental health software can significantly improve patient response time through a built-in messaging feature. 
Save Time And Effort: Mental health software programs help patients and clinicians discuss management plans without meeting face to face. Video calls and mobile app messaging can save time and energy from commuting or driving to meet in a physical clinic.
Offer Telehealth Services: Psychiatrists, therapists and counselors can offer telehealth services to their patients through mobile apps, wherein they can remotely communicate and follow up. These apps have intuitive interfaces that clinicians and patients can monitor treatment plans and mental health progress.
Smart Tracking: Smart trackers are commonly used in monitoring physical health indicators, such as pulse rate, breathing, and other vital signs. With mobile apps, mental health professionals can effectively track patients' behaviors by sending scheduled psychological tests or questionnaires. They can also send automatic reminders to their patients to take medications on time.
5. Built-In Online Mental Health Courses 
Some mental health software programs have built-in online teaching courses that family caregivers can use as a reference when managing patients with mental health problems. Examples of online mental health courses include knowing the basics of applied behavior analysis and practical tips to improve special children's social skills.
Here are the advantages of taking online courses through mental health software programs:
Family Support: Many families with newly diagnosed members having depression, personality disorder, autism, or any other mental health condition can benefit from taking online mental health courses. They're the ones who usually need a thorough explanation of their loved ones' condition. Most of the online courses were created by mental health experts to help educate and support patients' families.
Self-Pace Learning: Family caregivers can take the online courses in their free time and at their own pace to increase awareness and understanding of the signs and symptoms, treatment options, and expected outcomes of a specific mental health condition. By doing so, they can help their loved ones maintain emotional wellness and overall mental health.
Avoid The Stigma: Many people are still afraid of the social stigma associated with having a family member with a mental health problem. Online learning can help them overcome the stigma and broaden their knowledge and skills in caring for loved ones with psychological health problems.
6. Billing And Invoicing Integration
Claims processing for mental health services can be complicated without proper workflow and documentation. Because mental health software programs have integration capabilities, creating a billing and invoicing system automatically reduces time and effort with claims processing. 
A reliable mental health software starts the claims process upon initial appointment, narrowing or eliminating any gaps. This tool helps in attaining a more streamlined end-to-end workflow, right from the time patients submit claims to gathering receivables, thereby enforcing the best billing practices.
Conclusion
The stated mental health software trends above showcase the technological innovations that medical professionals and patients can take advantage of to improve overall health. Thus, choose a mental health software provider that can provide helpful features and benefits, saving time, resources, and effort in managing mental health issues.